About Marita van der Vyver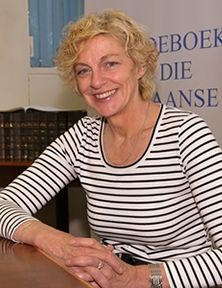 Marita van der Vyver is one of the most popular Afrikaans authors of all time. She has several books to her credit in genres as divergent as novels, short stories, non-fiction, and fiction for children and young adults. It is her wistfully erotic novel Griet skryf 'n sprokie (published by Penguin as Entertaining Angels) that established her as a household name and a well-loved figure in the literary landscape.
Her books are translated worldwide in several languages. She recently published a cookbook in English: Summer Food in Provence.
* * * * * * * *
Marita van der Vyver is op 6 Mei 1958 in Kaapstad gebore. In haar matriekjaar (aan die Hoërskool Nelspruit) 1975, wat ook die Afrikaanse Eeufeesjaar is, wen sy 'n landwye digkunswedstryd en slaan so 'n studiebeurs van vier jaar los. In 1978 behaal sy 'n BA-graad met tale en drama en in 1979 'n honneurs in joernalistiek aan die Universiteit van Stellenbosch. 'n Paar jaar later ontvang sy 'n meestersgraad in joernalistiek.Sy werk as joernalis by Die Burger en Sarie totdat sy in 1987 die vryskutlewe aanpak.
Sy debuteer in 1982 met die kinderboek Van jou jas, maar dis haar eerste boek vir volwassenes die opspraakwekkende Griet skryf 'n sprokie in 1992 wat 'n blitsverkoper is en vele herdrukke beleef. Die roman is met die M-Net-prys, ATKV-prys en die Eugène Marais-prys bekroon. Vir haar kinder- en jeugboeke word sy onder meer met die Tienie Holloway-medalje, die MER-prys en die Sanlam-prys vir jeuglektuur bekroon. Haar roman Wegkomkans is hoofsaaklik geskryf tydens haar sabbatsjaar (1996/97) in die suide van Frankryk. Sedert 1999 woon Marita saam met haar Franse man, Alain, en vier kinders op die Franse platteland.